Hi everybody! 🙂
I hope you've been doing well. For this week's post, I've decided to interview a domestic student I met in one of my classes. Hearing from the perspectives of international students in my previous interviews has been invaluable, but domestic students do go to OISE too and their voice also deserves to be represented.
I got to know Farhana Shaheed a bit better when we were working on an assignment about moderating discussion in our Interpretation of Educational Research class. She's a 1st year MEd student in Developmental Psychology & Education who's graduating in 2018.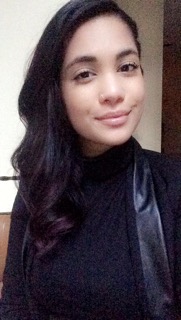 Farhana graciously agreed to be interviewed after I asked my group members if they were interested in being profiled on the OISE blog after our assignment together was over, so here are her thoughts on OISE & DPE:
What drew you to OISE's program?
I completed my undergraduate degree through OISE/UT as a part of the first cohort to pioneer through the Concurrent Teacher Education Program (CTEP). After a two-year stint teaching English and Social Studies in a secondary school in Southeast London, I found myself back in Toronto unsure of where the field of education would take me. I always wanted my next step to be graduate school. I researched several grad programs and schools; I found that the DPE program was most in line with my research and vocational interests. As an OISE alumnus, I also felt a real sense of nostalgia about the prospect of returning.
What did you love about the program and/or your professors and peers?
The DPE program and its courses offer students the opportunity to explore all sorts of topics and research interests. There is a real range of subjects you can take with varied times offered – this gives me the chance to work and study in a way convenient for me.
The peers in my program all have similar ambitions, but are driven by different motivations and end goals. There is a great mix of educators and individuals from completely different fields; we also get the chance to work with colleagues from around the world.
The professors are experienced and offer the opportunity to contemplate and explore topics so we arrive at our own conclusions. I really enjoy the courses that mix assignment types so we get to apply our learning in different ways: learning seminars, research papers, conferences, online discussions, flyers, and so forth. All of these experiences really come together to create a dynamic learning environment.
What did you learn about yourself at OISE?
I have always loved learning; however, I am now more cognizant of the fact that if I'm not overly interested in a topic I can easily drift off. Therefore, OISE has taught me to ensure I am taking courses that I find intriguing. I know that I really enjoy working with like-minded colleagues and can learn well collaboratively. OISE has made it possible to manage my time effectively. Working and doing a Masters full-time is not easy! I am always organizing my day to make sure I am maximizing opportunity to do all the things that need to get done while trying to maintain a social life as well. I have also learned that taking advantage of events held by the department and university are always great experiences to learn what research is taking place and learn from others.
What would you say to a future OISE student?
Pick an area of study that you are truly excited by! That way classes, readings and assignments will seem that much more enjoyable. Take advantage of all the services offered to graduate students: study rooms, writing centers, work-out rooms, social events, etc. Don't forget to have fun! Graduate school is different from your undergrad; you've got a lot more control.
Final Thoughts:
I think that Farhana is a really interesting person, and commend her for being able to both go to school and work full-time. I don't think I would be able to do it! 😛 Her testimony is evidence that OISE offers a lot of flexibility to its students, and that an MEd in DPE is worth considering to anybody truly passionate about the field of education.
Anybody interested in reading my previous interviews can go HERE to read my interview with my friend Yisha, or go HERE to read my very first interview with my friend Siwen. OISE has a really diverse student body, and I'm glad I have the opportunity to document some people's unique experiences. ^_^