by Susan
Master of Teaching
Students in the MT program are no strangers to 21st century competencies.
This October, the MT program is fortunate enough to have presenters from the Aga Khan Foundation of Canada (AKFC) to deliver workshops for teaching Global Citizenship in the classroom. AKFC presenters Genevieve and Afroza were experienced and eager in leading the workshop on how to teach Global Citizenship in the classroom and provided ready-to-use teaching aids.
If you are a prospective teacher, consider ways you can incorporate culture, equity, and sustainability into your class!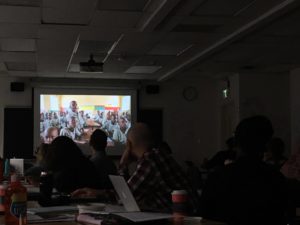 AKFC Global Citizenship Workshop, Oct 2017
A shocking statistic that I'm walking away today is the "Average Person" you would encounter in the world (compiled by National Geographic in 2011).
Age: 28
Gender: Male
Ethnic group: Han Chinese
Handedness: Right-handed
Average income: $12,000 US
Bank account: No
Cell-phone: Yes