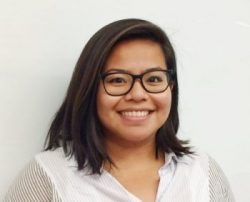 by Viel
MEd, Adult Education & Community Development
I honestly can't believe that my first semester of grad school is quickly coming to a close. With my last assignments and presentations in tow, I've come to a conclusion: I really don't want this to end. There have been so many things that I have yet to digest and I am surely going to miss the rhythm of grad life—the plethora of readings, the colorful and lively discussions, the thought-provoking lectures, the unfamiliar new faces that have become my friends, the early morning, coffee-fueled library sessions, and the intellectual discourse of my professors—I'll miss it all over the winter break! And I know you might think of me as too keen or too intense as a student, but I've genuinely enjoyed my time here. I've come to learn so much and am constantly in awe that every class I always seem to learn something new. Though I do admit, adjusting to grad school was a bit difficult at first, I feel like I have grown accustomed to it and am now willing to further step out of my comfort zone. It's been a long, arduous three months of constant growth, learning, and reflecting—I've definitely come a long way and I'm looking forward to more in the coming semester. You may have been wondering what classes I've been taking all this time and so, here's a peek of the classes you might be interested in and some of the things that I've learned from them.
Courses
Learning Outcomes
LHA1100 Introduction to Adult Education

Professor Jennifer Sumner

In this class, we talk about the traditions of adult education and how it can be both applied to the traditional and non-traditional classroom settings. Not only do we discuss adult learning theories and forms of learning, we also look at the historical implications of Canadian Adult Education and how they have been ingrained in social movements. Through readings, class discussions, and review papers—we've learned about the heritage of Adult Education in Canada through the Antigonish Movement and Frontier College. In the spirit of Canadian Adult Education, we also discussed ways to move forward with the Indigenous peoples of Canada through the Truth & Reconciliation Commission. Overall, we've learned how Adult Education continues to be a dynamic field and continues to work in this social justice and anti-oppression framework.
LHA1102 Community Development: Innovative Models

Professors Sherida Ryan & Jack Quarter

In this class, we challenge and deliberate the romanticized notion of "community". Through our lively discussions of social networks, social economy, social capital, asset mapping, we look at the ways in which community members and developers can address social inequalities and advocate for the marginalized. We talk about various models of community development that have worked for Toronto, such as co-operatives, social purpose enterprises, and asset-based initiatives. Our professors give us the opportunity to discuss the role of the government and which models of development are effective and ineffective. Through our lectures, we also have had the opportunities to meet community leaders who apply these models in their own community development practices. We've had guest speakers from places such as  Community Health Centers, The Furniture Bank, Alterna Credit Union, Acorn, U of T's Factor-Inwentash Faculty of Social Work,  and Urbane Cycling Co-Op. Our guest speakers allow us to learn about issues, such as social housing and access to healthcare, from the perspective of these leaders working in this field.
LHA1184 Indigenous Knowledge: Implications for Education

Professor J'net Ayayqwayaksheelth

In this class, we talk about how the Indigenous communities can move forward through Truth & Reconciliation. We discuss and learn about the traditional worldviews of the indigenous peoples of Canada. Our professor uses non-traditional teaching practices that elicit the indigenous ways of knowing and how they can be further applied to our own teaching practices. In our discussions, we talk about how we can act as indigenous allies and learn how to critically self-reflect on our own values, perspectives, and beliefs to be able to move forward to create an inclusive and diverse classroom community. We also have the opportunities to meet various Indigenous leaders in the community who continue to apply indigenous worldviews in their work and within institutions. Our professor, who is also an arts educator at the Royal Ontario Museum, talks about how art is an important vehicle in continuing traditions and challenging assumptions faced by indigenous people today.
As you can see, my first semester at OISE was well spent debating, presenting, writing, reading, learning, and most importantly, growing not only as a student, but as an educator. I have definitely come a long way since day one of my studies and I'm sad to leave this semester behind. I have come to familiarize myself with new faces and spaces, to challenge my assumptions and my perspectives, to learn how to listen and respectfully challenge other perspectives, and to step outside of the box. It is in this semester where I found myself continuing the conversations outside of class, looking forward to something new everyday, and applying my newfound knowledge in practical situations. As I end this semester with celebratory treats and dinners with my professors and my peers, I am looking forward to a well-deserved break, but I am also eagerly anticipating the upcoming semester. When I first began school, I was anxious and uneasy about how this first half of my studies was going to unfold—the classes, the professors, the people I would meet—but after completing my first semester, I've realized how fortunate I am that I was given this opportunity to continue to learn, to network, to reflect, and to further expand my educational horizons. But don't worry–my blogging has yet to come to an end and will be continuing until the holiday break! So even though my classes may be coming to an end, my blogging has not!
What are some things YOU are looking forward to in Grad School? Are these some of the classes you're interested in? I would LOVE to hear from you–comment in the section below!
Questions? Email me at oise.ambassador@utoronto.ca