Stop by the OISE library and check out these new additions to our collection!
 – Educating for Eco-Justice and Community [363.70071 B786E]: In this book, the author outlines a strategy for educational reform that confronts the rapid degradation of our ecosystems by renewing the face-to-face, intergenerational traditions that can serve as alternatives to our hyper-consumerist, technology-driven worldview. He explains how current technological and progressive programs of educational reform operate on deep cultural assumptions that came out of the Enlightenment and led to the Industrial Revolution. These beliefs frame our relationship with nature in adversarial terms, view progress as inevitable, and elevate the individual over community, expertise over intergenerational knowledge, and profit over reciprocity.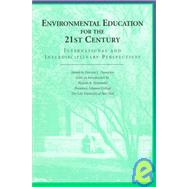 – Environmental Education for the 21st Century: International and Interdisciplinary Perspectives [333.7071 E61]: This volume offers many entry points for environmental teaching. Its scope and range provide a stimulating overview of the state of the art in the environmental curriculum in the humanities, the social sciences, teacher education, family and consumer sciences, business, and journalism as well as perspectives on creating a green academic environment through teaching, administration, and media relations.
– Beyond Ecophobia: Reclaiming the Heart in Nature Education [796.5 S677B]: This book speaks to teachers, parents, and others interested in nurturing in children the ability to understand and care for nature. This expanded version of one of Orion Magazine's most popular articles includes descriptions of developmentally appropriate environmental education activities and a list of related children's books.
These and other new books are all available on the New Acquisitions shelf on the ground floor of the library.