Interested in finding new and engaging ways to infuse the knowledge, histories and perspectives of First Nations Peoples into the classroom? Then you'll want to check out three of OISE Library's newest additions!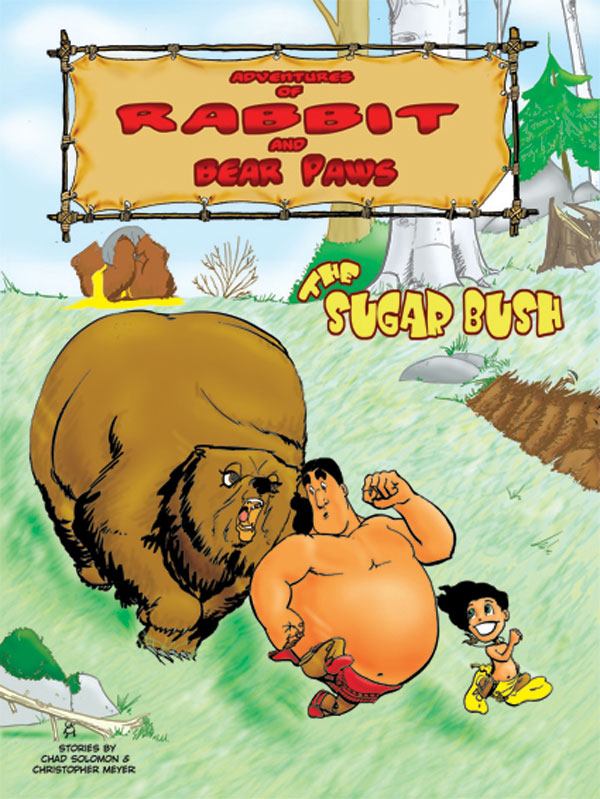 Written and illustrated by Chad Solomon, the Rabbit and Bear Paws series of graphic novels provide a fun and informative way to learn more about the history, cultures and traditions of Canada's First Nations. Stories follow the amazing adventures of Rabbit and Bear Paws, two mischievous Ojibwa brothers. Together with their family, the brothers travel across 18th Century colonized North America, meeting new communities and cultures along the way. Filled with fun and humor, these stories allow readers to learn important life lessons from the many pranks and adventures of the mischievous Rabbit and Bear Paws while also appreciating the different cultures encountered and the gifts that they have contributed to modern society. The Rabbit and Bear Paws books in the Sacred Seven series also act as dual language (English and Ojibwe) learning resources.
Based on the Emmy-nominated television series, the Raven Tales books are another collection of highly engaging graphic novels. This series follows the adventures of Raven, the powerful trickster from Aboriginal folklore, and his friends. Every book combines high-impact illustrations and humorous storytelling with an original interpretation of a tale from the teachings of Indigenous Peoples throughout North America. These stories are meant to provide readers with a sense of community and develop feelings of responsibility, respect, and the interconnectedness of life. As an added bonus the OISE collection also includes many of the Raven Tales DVDs!
In Achieving Indigenous Student Success: A Guide for Secondary Classrooms, author Pamela Toulouse aims to provide grades 9 – 12 teachers wanting to incorporate Indigenous perspectives and knowledge into their courses with a practical resource suitable for any secondary classroom. In Part 1 of the book, readers will find chapters covering a wide range of pertinent topics, including Indigenous pedagogy and classroom considerations, Indigenous themes and resource materials for various secondary subjects, and mental-health activities. In Part 2 Toulouse offers readers a variety of lesson plans filled with interesting and culturally relevant learning activities for different subjects, which can be adapted by teachers to suit different grade levels and learning goals.
Exciting news for Canadian math educators! OISE Library has just added the first Canadian Edition of Helping Children Learn Mathematics to our collection. Written by renowned educators from the U.S.A. and Canada, this book is a rich resource for beginning and experienced teachers alike.  The first section of the book provides readers with an overview of mathematics education across Canada, as well as an understanding of the continually evolving mathematics education landscape. Just as importantly, this section explores how children learn mathematics, including topics such as the diverse learning environment, meeting the learning needs of students, and developing students' problem solving skills. Chapters in the second section of the book focus on individual mathematical strands or concepts, and are filled with practical tips, strategies, and learning activities that educators can easily incorporate into their lessons.  A great book for those wanting to bring some new ideas into the mathematics classroom!
Creating a welcoming and engaging classroom environment for a diverse group of students is one of the most challenging (and rewarding!) responsibilities of being a teacher.  Readings, Writing and Talk: Inclusive Teaching Strategies for Diverse Learners, K – 2 offers those involved with primary education a new way of approaching the teaching of language and literacy skills, one which focuses on teaching practices that value and recognise the individual gifts of every student.  Authors Mariana Souto-Manning and Jessica Martell invite readers to move beyond the standard understanding of literacy and language to explore pedagogical strategies that acknowledge the diverse language and literacy practices of diverse children. The book is filled with practical hands-on examples and strategies, with chapters focusing on oral language, reading, and writing development. An excellent resource for teachers of early elementary students!
You can find these titles, and many more new additions to the OISE collection, on the ground floor of OISE Library! Just look for the "New Acquisitions" bookshelf, or ask the Circulation staff at the Service Desk for assistance.
Happy reading!