March is Women's History Month, and the library has put together a display of fantastic resources for building a lesson on the subject! The display includes items from the library's Curriculum Resources and Children's Literature collections which focus on women who have blazed a trail in some way.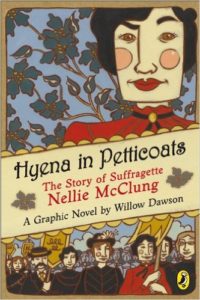 Willow Dawson's graphic novel, Hyena in Petticoats: The Story of Suffragette Nellie McClung, explores on the life and work of Canadian suffragette and women's rights activist Nellie McClung, who was one of the Famous Five. The story of the Famous Five, a group of women's rights activists who fought for the right of Canadian women to vote, own property, and serve in the Senate, is told in Terry Barber's The Famous Five, also on display, and in Penny Dowdy's graphic novel on the subject.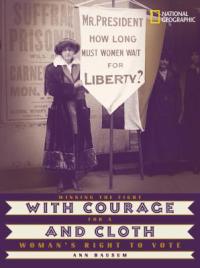 The women's suffrage movement in the US and the surrounding women's rights activist groups are the subject of Ann Bausum's With Courage and Cloth: Winning the Fight for a Woman's Right to Vote, which includes a history of the disparate American suffrage movements of the nineteenth century as well as features on the successful twentieth-century activist movements. A conversation about suffrage movements and women in government with younger learners could be started using Linda Arms White's book, I Could Do That: Esther Morris Gets Women the Vote. Winner of the Christopher Book Award, White's book tells the story of Esther Hobart Morris, who, in the nineteenth century, succeeded in her effort to make Wyoming the first state to allow women to vote before becoming the first woman elected to a U.S. public office.
OISE Library holds many Curriculum Resources items on female leaders in the American civil rights movement, including several items on Rosa Parks; Faith Ringgold's If A Bus Could Talk: The Story Of Rosa Parks, which is included in this display, uses folk art illustrations and is suitable for introducing Parks' story to very young children. For older learners, Rob Shone's Rosa Parks: The Life of a Civil Rights Heroine covers Parks' work as a committed activist.  Mary Church Terrell, who was one of the first African-American women to earn a university degree and helped to found the NAACP, is the focus of Fight On!: Mary Church Terrell's Battle for Integration by Dennis Brindell Fradin and Judith Bloom Fradin, which can also be found in this display.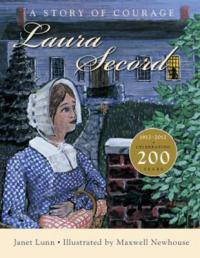 Works on important women from throughout Canadian history include Laura Secord: A Story of Courage and Great Women from our First Nations. Janet Lunn's Laura Secord: A Story of Courage, illustrated by Maxwell Newhouse, is one of many recent titles on Secord; Lunn's work has been praised for telling the story of Secord's journey to warn British troops of an ambush during the War of 1812 in a fresh and informed style. Kelly Fournel's Great Women of Our First Nations, nominated for a Saskatchewan Book Award and a Brenda MacDonald Riches First Book Award, features profiles of First Nations women who have made history in a variety of fields, from journalism and government to the arts.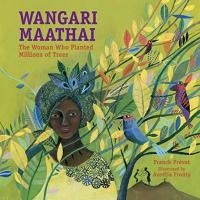 A range of titles on other female pioneers is included in this display. Canadian astronaut Roberta Bondar is the focus of Michael Webb's Roberta Bondar: Leading Science into Space; other titles on Bondar available at the OISE Library include Bondar's book, Touching the Earth and Roberta Bondar: Canada's First Woman in Space, by Judy Wearing, which also explores Bondar's work as an environmentalist. Pilot Amelia Earhart's life is the subject of Brad Meltzer's I Am Amelia Earhart, which is suitable for younger learners; other titles on Earhart for young readers include Amelia Earhart: The Legend of the Lost Aviator and Night Flight: Amelia Earhart Crosses the Atlantic. The life and work of Nobel Prize-winning environmentalist Wangari Maathai is depicted in Franck Prévot's Wangari Maathai: The Woman Who Planted Millions of Trees; information on Maathai's reforestation movement and activism for women's rights is accompanied by beautiful illustrations by Aurélia Fronty. Physicist Chien-Shiung Wu and primatologist Jane Goodall are the subjects of juvenile biographies also on display, Stephanie H. Cooperman's Chien-Shiung Wu: Pioneering Physicist and Atomic Researcher and Jeanette Winter's The Watcher: Jane Goodall's Life with the Chimps.
Other resources on display include resources on female soldiers of WWI and WWII and the female Appalachian pack-horse librarians, as well as titles on female explorers, adventurers, and inventors.
This display includes resources for a range of age groups and learner levels, and is located on the ground floor of the OISE Library. If you would like to check out an item on display, don't hesitate to ask a staff member for assistance, as all items are available to be borrowed. A wealth of additional resources for Women's History Month will also be featured in an upcoming OISE Lobby display for International Women's Day, so stay tuned!