Good things come in moderation, Stop This Birthday, written by Rowan Cutler and Illustrated by Elizabeth McClellan, is a about a little girl who takes her birthday wish a little too far.  The story begins on the morning of Zephyr's birthday and no one is more excited than her! But, after a full day of fun Zephyr doesn't want the day to end! So, when the birthday fairy comes to visit,  granting a wish to the birthday girl Zephyr wishes for it to be her birthday… everyday! Quickly Zephyr discovers that maybe all the birthday shenanigans is more work and less fun than she had realized.  Your class will be entranced by the colorful illustrations, and giggling along with the vivacious writing of this beautiful picture book, Stop this Birthday is truly a wonderful book to read to your early primary class.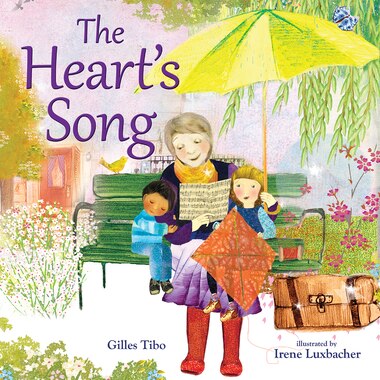 Introduce your students to Miss Matilda's Kindness. The Hearts's Song,  By Gilles Tibo, and illustrated by Irene Luxbacher tells the story of Miss Matilda and her daily visits to the park to help the people of the town to fix their broken items. Her suitcase is full of different tools to fix toys, sunglasses, umbrellas, any little thing that could break, however, not everything can be fixed with a screwdriver or a sewing needle. One day Miss Matilda meets Jeremy, but Jeremy does not have a physical object that needs to be fixed, he had a broken heart. Fortunately Miss Matilda knows how to fix that too, with a lullaby and a big hug. The Heart's Song, is a great book to introduce kindness, and empathy to your class, providing them with tools on how to care and comfort one another.
Author Nancy Mike, and Illustrator Charlene Chua, collaborate to create the heart
warming story of  Elisapee and Her Baby Seagull.  Elisapee has an unusual friend, a baby seagull named Naujaaraq, or Nau for short. Elisapee raised Nau, watching him grow and grow, providing him with all of the love and care a baby seagull needs. Elisapee even helped her little friend learn to fly! But, as Nau continued to grow, he started to develop his own independence and began to spend more time with other seagulls, but he always made time to come back and visit his friend Elisapee. Elisapee learns about caring for animals, and that sometimes things change and that's okay, because love is letting someone be who they are.
Every student is precious, and should be respected, Creating Caring Classrooms: How to encourage students to communicate, create, and be compassionate of others, written by, OISE instructor, Larry Swartz, and Kathleen Gould Lundy the coordinator of Dramatic Arts and Dance at the Toronto District School Board, discusses and shares strategies of how to create a space of care and respect in your classroom. Focusing on building community, communication, collaboration, compassion, and confronting the bullying issues. This work can help provide you with the techniques to manage and curate a safe and comfortable classroom for all of your students. A excellent read to consider as you begin to move into your own classrooms.
The end of the semester is nearly upon us, and putting this past year in review you've certainly learned a lot, you've learned about classroom management, how to cater to different students, and what it takes to be a good teacher. To help consolidate all of the knowledge you've gained throughout this past year consider picking up, What Is A Good Teacher by David Booth and Richard Coles. This work dives into, developing a teacherly identity, knowing your students, developing your teaching strategies and techniques, and understanding how effective schools work. This work was collaboratively written by two excellent OISE professors, truly experts in the field of education who can help you consider your own strengths and how you can become the best teacher you can be.