Although we are surrounded by various forms of information and communication technologies, we don't often think about the materiality of them. The SmartLab Smart Circuits activity kit goes beyond teaching children about basic electronics (such as light switches, speakers etc.) to understanding how modern computers are constructed. The kit contains 6 base boards, 10 modules, 31 jumper wires and a manual. It also requires 3 AAA batteries (not included in the kit) to run.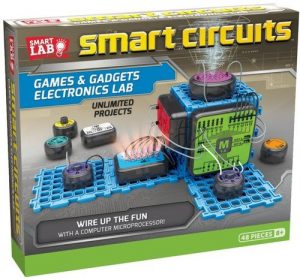 The Smart Circuits activity kit is best suited toward kids from around 8 – 10 years old: it is relevant to both kids who haven't learned the fundamentals of electricity, to kids who already know how to build basic circuits. It starts off with the basics by teaching kids about electricity and how currents, voltage and resistance work. The activity kit then builds on that understanding by teaching them about parallel circuits, and the difference between various conductors, resistors, tilt-switches and push-buttons. As they build their vocabulary, they are also able to test various experiments. The kit includes diagrams that outline the 50 projects that kids can choose from. These projects also flow in a very logical manner as they each build upon the skills learned earlier. For example, kids would start off learning how to build a rainbow maker, but as they progress they will learn to build things such as a motion-sensing room alarm, or an electronic drum kit. The kit contains many different projects so that it also suits a variety of interests, as well as skill sets: some of more exciting ones include an invisible light detector, and a magic message wand! It also comes with a powerful microprocessor, so outside of the outlined projects kids can design their own custom experiments and gadgets.

The projects are important because it allows for kids to use the concepts they've learned through this kit, to understand machines that they interact with on a daily basis. The Smart Circuits activity kit is a fun way to combine a valuable learning experience, with experimenting and creativity. This kit is perfect for those who are already very interested in electronics, but it also useful for those who are a little more intimidated and might benefit from a fun hands-on approach!
If you would like to bring Smart Circuits to the classroom it is located in the Oversize Curriculum Resources Section on the 3rd Floor of the OISE Library.