By Bev Caswell
Last week, the Robertson Program visited the Rainy River District School Board (RRDSB) to co-create activities focused on shape and spatial relationships that help children recognize relationships between two- and three-dimensional objects. Thank you to RRDSB Director Heather Campbell, Superintendent Al McManaman and RRDSB Numeracy Facilitator Brad Oster for organizing this collaborative learning opportunity!
Providing opportunities for students to think Architects: Drawing, Imagining, Building and Transforming at Robert Moore Public School
We were very happy to work with K-3 Robert Moore Public School educators once again. This time, we field-tested 3D building challenges, mathematical drawing and perspective-taking activities that invite young children to think like architects. We were especially impressed by the young children's ability to draw and recognize objects from different perspectives.
A new collaboration with Donald Young Public School educators
We began a collaboration with K-3 educators at Donald Young Public School exploring activities from our book for teachers: Taking Shape: Activities to Develop Geometric and Spatial Thinking.
North Star Public School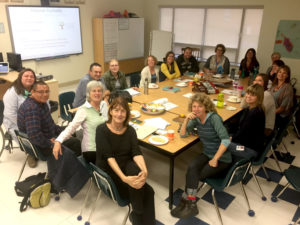 We also made new connections with North Star Public School (RRDSB) in Atikokan, Ontario. The teachers and Principal Jody Labossiere welcomed our team into their school.
In collaboration with Natural Curiosity, we looked at different ways that educators can use inquiry to explore environmental science with their students.