By Bev Caswell
Earlier this week, teachers from Pegamigaabo School, Onigaming School, and Seven Generations Education Institute visited the Robertson Program team at the Dr. Eric Jackman Institute of Child Study. Highlights included: co-designing new spatial activities that focus on developing children's numeracy skills, observing mathematics lessons in JICS classrooms, creating connections with educators at First Nations School (Toronto District School Board), and participating in an inquiry-based environmental science workshop led by Haley Higdon (Natural Curiosity).
Chi Miigwech to Principal Jonathan Kakegamic for welcoming our guests to the First Nations School of Toronto (FNST), Toronto District School Board and for providing the possibility to build connections between educators and students from the First Nation School (TDSB) and educators and students from Treaty 3 (Big Grassy First Nation and Onigaming First Nation and Seven Generations Education Institute).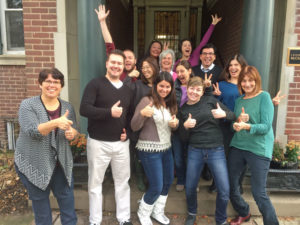 This is how math makes us feel!
Thank you to our partner educators: Chris Johnson, Julie McQuaker, Jane Tom, Margaret Romain, Kurtis Hansen and Marge Red Cloud.
Special thanks to Kim Kirk, Seven Generation's First Nations Student Success Program coordinator, for organizing this visit.