The Robertson Program's Founding Director, Bev Caswell, co-presented our work with colleagues Jason Jones and Marjolaine Lapointe at the American Educational Research Association (AERA) Conference earlier this week. AERA is the largest annual gathering of education researchers, bringing together more than 14,000 scholars conducting a wide range of groundbreaking studies in education. The conference theme this year was "Leveraging educational research in a post-truth era: Multimodal narratives to democratize evidence."
Bev, Marjolaine and Jason were part of a symposium titled "Mathematics and Settler Colonialism: Toward a Future That Centers Indigenous Worldviews", along with  Rochelle Gutierrez (University of Illinois at Urbana-Champaign), who chaired the session, Filiberto Barajas-Lopez (University of Washington), and Megan Bang (The Spencer Foundation). As discussant, former OISE professor Jean-Paul Restoule (University of Victoria) thoughtfully wove together common threads in the three presentations.  The session highlighted research that demonstrated the importance of Indigenous knowledge and voices in mathematics education.
Bev's presentation described The Robertson Program's professional development approach that validates Indigenous ways of knowing mathematics and creates spaces for Indigenous and non-Indigenous educators to jointly develop math curriculum and build math communities. Bev showed how our work in Treaty #3 Territory schools connected communities in meaningful ways as it created space for teachers to bring Indigenous knowledges, histories and perspectives into classrooms — particularly in the area of mathematics. An essential feature of the Robertson project has been the  inclusion of Ojibwe language teachers engaged in Indigenous language revitalization. Jason and Marjolaine (language teachers and leaders in this movement) spoke eloquently about their reclaiming of Anishinaabemowin as a language in which mathematical concepts are distinctly embedded.
This Robertson work, along with that of the other  presenters, was also featured in the most recent edition of Annual Perspectives in Mathematics Education (APME), a prestigious publication published by the National Council for Teachers of Mathematics. You can read more about their featured APME work on the Robertson Program blog, "We Don't Think of It in Terms of Math, It's Just the Way of Life": New publication features our PD that makes meaningful connections with communities.
This year, AERA was held in Toronto for the first time. This provided an opportunity for our partner school, the Dr. Eric Jackman Institute of Child Study Lab School, to showcase for an international community some of its valuable contributions to education. The Lab School welcomed guests from around the world to tour the school as well as participate in Lesson Study, one of its most valuable PD experiences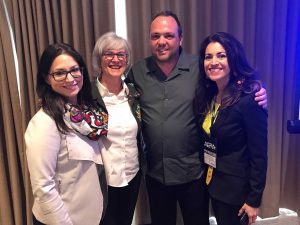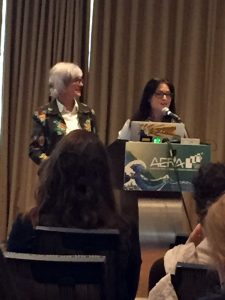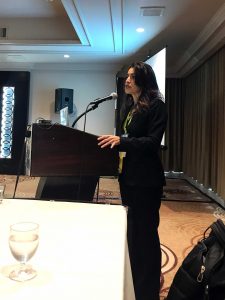 AERA delegates visit the Dr. Eric Jackman Institute of Child Study Lab School