This month's ground floor display at the OISE library celebrates Indigenous literature. You'll find monographs about Indigenous literature, poetry anthologies, and works of non-fiction, science fiction, and more. Intended to showcase the variety of writings by Indigenous authors, from humorous sci-fi takes, inspirational non-fiction essays, to sombre poetry, there is something to be found for everyone. As always, all of these books are available so please feel free to come browse; Check out any that interest you!
Margery Fee, Literary Land Claims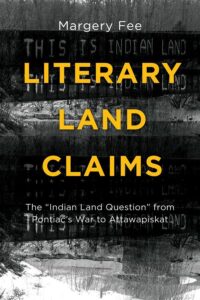 Literary Land Claims explores Indigenous literature and its connection to Land, analyzing how that connection can be used to support land claims. Fee examines notable figures such as Louis Riel and infamous fake Indigenous author Grey Owl, looking at their written works which she chose for their view or connection to land. Fee wants to investigate different identities, the portrayal of Indigenous peoples in Canadian literature, and how these perceptions about Indigenous people interact with the land. Speaking to Canadian literature, Fee argues "the land itself forms the national character, for which literature becomes the primary evidence" (6). Literary Land Claims demonstrates how storytelling is a potent decolonial force, and asks us to reimagine the Canadian nationalism seen in Canadian literature. In 2015, Literary Land Claims was a finalist for the ACQL Gabrielle Roy Prize for Literary Criticism.
Kim Anderson, A Recognition of Being: Reconstructing Native Womanhood
Based on Anderson's graduate thesis for OISE, A Recognition of Being: Reconstructing Native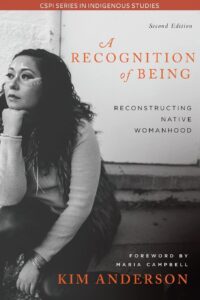 Womanhood, explores womanhood, and how colonialism has impacted womanhood in Indigenous communities. Anderson explores the shift in power dynamic, how Indigenous women are represented today, and the impacts of the internalization of stereotypes and harmful perceptions. A Recognition of Being works through four stages of being toward self-love and of a healthy sense of self: resist, reclaim, construct, and act. Geared towards other Indigenous women, Anderson explores self-perception and identity through discussion with forty Indigenous women, as well as her own experience reclaiming and reconstructing her self-image as a Cree/Métis woman.
Drew Hayden Taylor, Take Us to Your Chief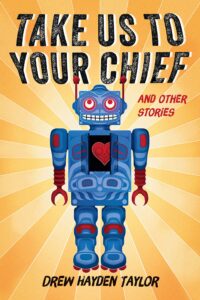 Take Us to Your Chief by Drew Hayden Taylor is a humorous children's science fiction story that explores the frontier of classic science fiction archetypes by blending them with stereotypical representations of Indigenous people in genre fiction. The result is a comedic play on sci-fi tropes from a Haudenosaunee perspective. Take Us to Your Chief has nine stories, each playing with a different sci-fi trope from aliens, space travel, sentient computers, and first contact. Taylor draws contemporary parallels to Indigenous peoples, colonization, and representations of Indigenous people in popular fiction, then he turns them on their head. A great mix of social commentary with storytelling, particularly geared towards a younger audience.
Eldon Yellowhorn & Kathy Lowinger, What the Eagle Sees: Indigenous Stories of Rebellion
and Renewal
What the Eagle Sees: Indigenous Stories of Rebellion and Renewal is a children's nonfiction work that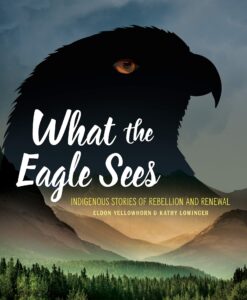 explores the varied responses to invasion in North America from a North American Indigenous perspective, across time periods. The story highlights different forms of resistance that took place in different communities. It emphasises the consistent renewal efforts common to those communities regardless of their different responses, across time and space and despite colonial efforts of assimilation and eradication. Yellowhorn and Lowinger facilitate an understanding of the complex array of experiences with colonialism, and they aim to increase understanding, empathy, and education in a younger audience. Included in the text are glosses that provide greater historical context, as well a list of terms and additional resources to support continued learning.