OISE Library is excited to announce that Orbit: OISE's Magazine for Schools, an OISE publication which ran from 1969 – 2008, is now fully digitized and openly accessible on the Internet Archive. The magazine featured practical articles stemming from the research of many OISE faculty and is a record of the Institute's long-standing relationship with the education community.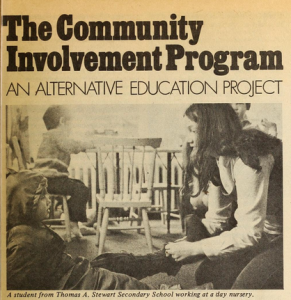 As one of two publications to evolve out of the Ontario Journal of Education Research, Orbit was designed to link the research of OISE to the everyday practice of Ontario teachers. Hugh Oliver, founding editor of Orbit, notes that in the early years Orbit not only explored new ideas in education but also played a role in public relations for OISE, at a time when the Institute was newly founded and still establishing its relationship with the community.
.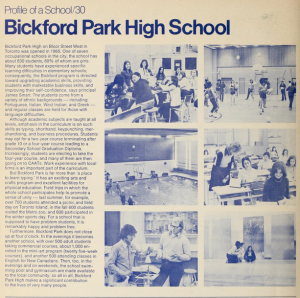 Early articles featured interviews with Northrop Frye and Paulo Freire, reports on experimental education from open plan schools to non-graded systems, as well as critical discussions of educational theory. A long-running series of back covers profiled various public schools from around Ontario through photos and short write ups. Early issues came with teacher aids, including audio records, projector slides, text "masks" for reading comprehension, as well as teaching resources that could be ordered "from the community" which included organizations like the Ontario Department of Lands and Forests and the Aluminium Company of Canada.
Popula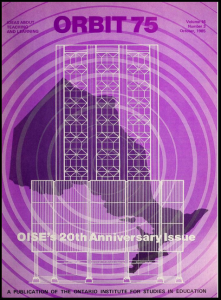 rity continued through the 1990s, under editor Heather Berkeley, and during this time Orbit played a crucial role in facilitating conversations around the educational reforms of the era. Themed issues took on challenging topics of the time, including safe schools, gender and schooling, and anti-racist education, and special inserts offered practical solutions for incorporating these ideas into work in the classroom. In 2008, after a very successful and almost 40-year run, Orbit was retired; however, as Berkeley wrote in the magazine's final issue, its struggle to "cross the practice/research divide" lives on at OISE. The newly digitized collection of Orbit, now available openly online, preserves the ideas and enthusiasm behind this goal, and will serve to inspire current and future generations of teachers, researchers, and the wider educational community.