With the start of the 2018 Winter Olympics, this month's historical display takes a look at some of the ways that sports and physical education in Ontario schools has changed!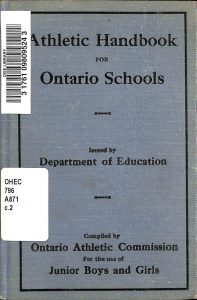 In the early 20th century, physical education was taught as two subjects: Hygiene and Physical Culture. These were treated as complementary subjects, where "[hygiene] provides the pupil with the knowledge necessary for the maintenance of his bodily health and [physical culture] provides the exercises and activities whereby this bodily health may be promoted" (Courses of Study, Public and Separate Schools, 1926).
Although the curriculum did not provide teachers with specifics, other resources were available to teachers. Physical exercises, for example, were outlined in books such as The Syllabus of Physical Exercises for Schools (1911) and the Athletic Handbook for Ontario Schools (19–). Unlike organized sports, many of the exercises in such books could be done in place in the classroom.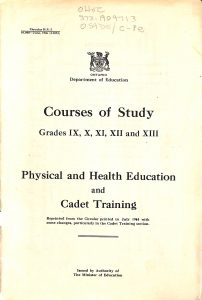 In the 1930s, physical education and hygiene were rolled into a single course, "Health." This course included everything from first aid, playground games, singing games, folk dances, and sports such as track and field. Older pupils also participated in both team sports, such as volleyball and hockey, and individual sports, such as tennis and gymnastics.
Physical education in the early twentieth century also included school cadet corps – a practice that became particularly prominent during World War II. Physical Education curricula from the 1940s integrated Cadet Training and Defence Training into the course of study for high school students. In addition to basic physical and health education, these students could choose from a variety of defence-related electives, including: first aid, small arms training, navigation, map reading, and aircraft recognition.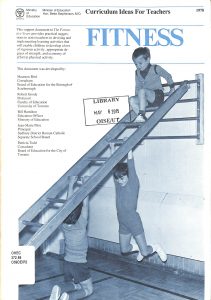 In the second half of the twentieth century, curricula for all subjects became more specialized and more detailed. Unlike earlier curricula, these often included descriptions of suggested activities for the classroom as well as scheduling recommendations. More emphasis was also placed on sports rather than the general exercises of earlier years, although basic movement exercises continued to play a prominent role in girls' physical education classes into the 1960s.

These materials will be on display in the glass table on the ground floor of the OISE Library through the month of February.