Puppets are taking over the library! We have recently acquired over 70 new puppets, and they are all now available to borrow by OISE students, faculty, and staff.
In addition to our older puppets (from Polkaroo to a hand-crafted Caterpillar by our own Joanne Lynes), there are three new groups of puppets: Multi-Ethnic Career Puppets, Wildlife Puppets, and The Storyteller Puppets.
Multi-Ethnic Career Puppets

This group of inclusive and multi-cultural puppets makes teaching about occupations easy! We have a number of these puppets in various occupational uniforms, from a firefighter or chef, to a mail carrier or doctor.
To find the Multi-Ethnic Career Puppets, try searching in the OISE catalogue for "puppet career."
Wildlife Puppets
Our largest group of puppets includes a lion, alligator, bear and more! Made by Folkmanis,
each puppet includes a tag with a short story that can be performed by the puppet.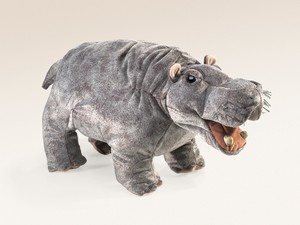 Folkmanis also produces instructional videos on how to use their puppets, for instance, check out this video on the many ways of using the grey squirrel hand puppet. Folkmanis even has links to a number of useful Puppetry Resources.
To find this extensive collection of wildlife puppets, search for "puppet folkmanis" in the OISE catalogue.
The Storyteller Puppets

Our last new group of puppets are The Storytellers. These 14 puppets are uniquely
designed by Native artists and help teach through
aboriginal folklore. Each puppet includes a tag with a QR code linking to information about that puppet's artist, along with a list of topics the puppet can help to teach.
To locate this beautiful group of puppets in our catalogue, search for "puppet storyteller."
Our collection of puppets is located in Curriculum Resources on the third floor of the library, near the Juvenile Fiction collection. We also have one stand of puppets on the first floor. Puppets can be taken out by all OISE students, faculty, and staff, however borrowing is limited to 5 puppets a person. Of course, everyone is welcome to come in and check out these adorable and exquisitely made puppets!