February has been been a chilly one, so let's take some time to warm-up our hearts and minds with some great reads!
Have you heard of the psychology study that came up with thirty-six questions designed to make you fall in love? If you haven't, check out this New York Time Article! These questions and the real psychology study inspired Vicki Grant to write 36 Questions That Changed My Mind About You. This story guides us through the 36 questions, and answers of that Paul and Hildy, participants in the study. Hildy is an awkward scattered girl, while Paul is serious and a little aloof. They both had their own reasons to participate in this unusual experiment and it might not be what you think. This story is told through several unique mediums, filled with doodles, text scripts and traditional storytelling. This adorable read is a lovely book to pick up when you need to take a break from the busyness of life and smile.
Tanaz Bhathena's debut novel, A Girl Like That, begins with the end. Zarin Wadia and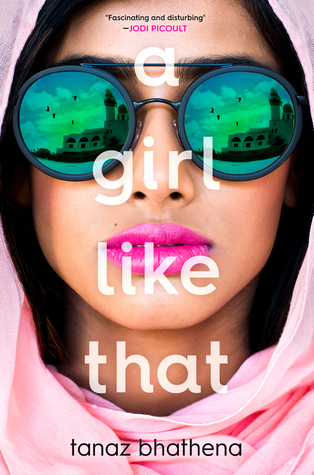 Porus Dumasia, our teenaged leads, are found dead in Jeddah, Saudi Arabia. This story follows the short lives of Zarin and Porus, told through the various perspectives of those who had interacted with them throughout their lives. The setting takes place throughout India and Saudi Arabia, a unique setting in contrast to most contemporary Young Adult novels. Zarin is an orphan from India, raised by her mother's sister in Saudi Arabia. Zarin was a vivacious, bright girl, with a fierce will; however, she was always known as a troubled girl, someone your parents would have told you to stay away from.  A Girl Like That, would be best suited for older teens, as it covers sensitive topics such as domestic abuse, rape and bullying.

On a lighter note, I'd like to introduce you to Chaotic Good, written by Whitney Gardner.
This fun and fresh read is perfect for the nerdy people in your life. The story follows Cameron, a comic and cosplay enthusiast. Originally hailing from Portland, Cameron now lives in a small town where her gender seems to determine her interests. To avoid the harsh scrutiny she faces as a woman in a comic shop, Cameron uses her cosplay skills to dress as a boy, which leads her into an unusual situation. Somehow she's now playing Dungeons and Dragons with the people who previously scrutinized her. This novel is a fun light read, filled with good humour, and a feisty lead. It also contains comics detailing the Dungeons and Dragons adventures within! Overall, Chaotic Good is a bundle of fun that I recommend to every person with a nerdy side!
 Transforming Conversations:  Feminism and Education in Canada since 1970 , is an edited work by Dawn Wallin and Janice Wallace, two women who have greatly influenced higher learning educational institutions. This work is comprised of several different pieces of writing that discuss the topic of feminism and education in Canada. The work is separated into three parts: Discourses of Teaching: Speaking Up; Discourses of Leadership: Speaking Out;  and,  Disrupting Discourses: Speaking Back to Feminism. Each of these parts features essays that encourage the reader to think critically, to analyse pedagogical structures, and evaluate their own experiences in education through a feminist lens.
It is important to ensure that our feminism is intersectional. We must take time to acknowledge and understand the issues that women face who are from different backgrounds, and experiences, and how they might differ from those that the majority experiences. Indigenous Women and Feminism Politics, Activism, Culture takes a deeper look at mainstream feminism and how indigenous issues fit into the conversation. Cheryl Suzack, Shari M. Huhndorf, Jeanne Perreault, and Jean Barman seek to provide a unique perspective of the experiences faced by indigenous women. Included are essays looking at these issues from a pre- and post-colonial lens, specifically looking at the effects of politics, activism, and culture on indigenous women.