The deaths of George Floyd, Breonna Taylor, Ahmaud Arbery, and Regis Korchinski-Paquet have brought much-needed attention to the racist policies and systems that harm Black people in the United States, Canada, and throughout the world. Many parents and educators are wondering how best to speak to children about race and racism, and how to educate for antiracism and for Black Lives. The University of Toronto Libraries and the OISE Library are here to help parents and teachers find the resources they need and to feel empowered as educators.
These are just a few select resources for kids and for teachers from the UofT collections with a focus on Canadian titles; library staff can help you find more, and we welcome your title suggestions. Unfortunately, not all educational or children's materials are available or us to purchase in electronic formats; we encourage you to contact your local public library or your local independent bookseller (A Different Booklist is a Black-owned Toronto bookseller we recommend) while our physical locations are closed. Please note that the compilers of this list are not Black and this initiative is a mark of solidarity in an effort to offer resources to learn. Black Lives Matter.
This list is a companion list to UofT Libraries' Anti-Black Racism Reading List; we encourage parents and teachers to look at these titles as well.
Resources for Young Children (5-9)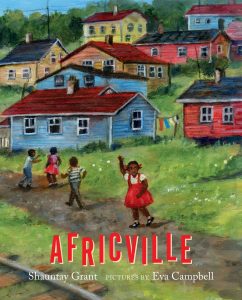 Africville by Shauntay Grant & illustrated by Eva Campbell (2018)

A young girl visits the site of Africville in Halifax, Nova Scotia, a historically Black community, and imagines what the community was once like. She visits the present-day park and the sundial where her great-grandmother's name is carved in stone, and celebrates a summer day at the annual Africville reunion. Ages 5-8.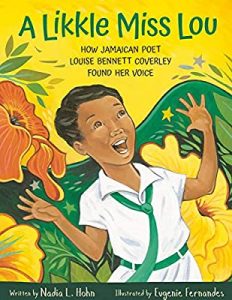 A Likkle Miss Lou: How Jamaican Poet Louise Bennett Coverley Found her Voice by Nadia L. Hohn & illustrated by Eugenie Fernandes (2019)

A story about the young life of Louise Bennett Coverly growing up Kingston, Jamaica. Louise loves to hear Jamaican Patois being spoken, but is only taught British English at school. The story not only teaches readers about a Miss Lou's biography, but encourages them to use language for their empowerment and to find their own voices. Ages 5-8.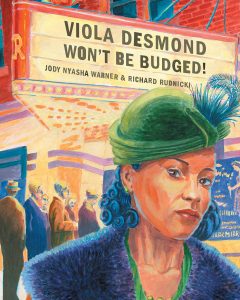 Viola Desmond Won't be Budged by Jody Nyasha Warner & illustrated by Richard Rudnicki (2010)
La Détermination de Viola Desmond translated into French by Louise Binette (2013)

In 1946, Viola Desmond was arrested for refusing to give up her seat in a Nova Scotia movie theater. For children whose exposure to civil rights activism has been limited to American figures, this book can spark conversations about the history and legacy of racial segregation in Canada. Also available in French. Ages 7-9.


An account of the young life of Canadian Football League quarterback Chuck Ealey written by his daughter. A companion to Richardson's adult biography of the same name. Ages 5-9.
The Day You Begin by Jacqueline Woodson & illustrated by Rafael López (2018)
Un Jour, Tu Découvriras… translated into French by Isabelle Allard (2019)
Written by Jacqueline Woodson, winner of the National Book Award and the Coretta Scott King Award, The Day You Begin encourages young readers to find the courage to connect, even when feeling scared and alone. Also available in French. Ages 5-8.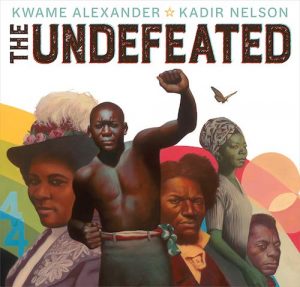 The Undefeated by Kwame Alexander & illustrated by Kadir Nelson (2019)

Written in the form of a poem, this picture book is "a love letter to Black life in the United States." Spanning centuries of Black resistance, this book can help kids to contextualize Black Lives Matter in a broader history. Ages 5-9.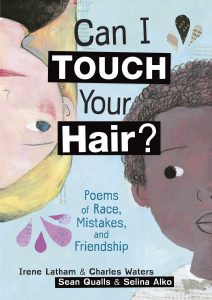 Can I Touch Your Hair? Poems of Race, Mistakes, and Friendship by Irene Latham & Charles Waters, illustrated by Sean Qualls & Selina Alko (2018)
When they can't find partners, Irene and Charles are assigned to work together on a poetry project. Irene, who is white, and Charles, who is Black, don't know each other, and aren't sure if they want to. Through writing poetry, Irene and Charles share their everyday experiences with race, family, and identity, and begin to bridge the divide that separates them. Ages 8-12. Available as an ebook.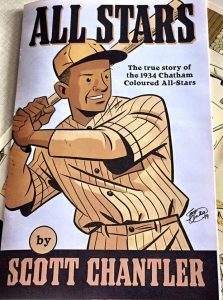 All-Stars: The True Story of the 1934 Chatham Coloured All-Stars by Scott Chantler (2019)

This mini-comic tells the story of the Chatham Coloured All-Stars, the first Black team to win an Ontario Baseball Amateur Association title. The comic is also sold on Etsy, with proceeds supporting the Chatham-Kent Black Historical Society, and has a free accompanying teachers' guide. Ages 8-12.




---
Resources for Older Children (10-18)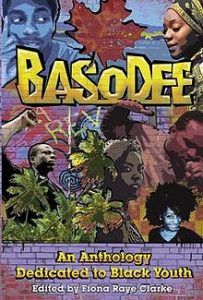 Basodee: An Anthology Dedicated to Black Youth edited by Fiona Raye Clarke (2012)

An anthology of youth-centred and youth-created poems, essays, and stories exploring what it means to be young, Black, and Canadian. Ages 14 & up.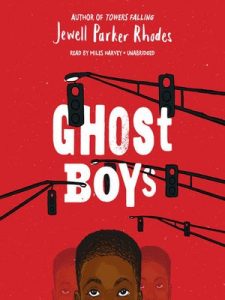 Ghost Boys by Jewell Parker Rhodes (2018)
After twelve-year-old Jerome is shot by a police officer, his ghost witnesses the aftermath of his killing and its effect on his family and community. When Jerome meets the ghost of Emmett Till, he is able to see his death as part of a larger pattern of systemic racism. Ages 10-15.
Righting Canada's Wrongs: Africville: An African Nova Scotian Community is Demolished — and Fights Back by Gloria Ann Wesley (2019)

Part of the Righting Canada's Wrongs series, Wesley's book tells the story of Africville –⁠ how the city of Halifax neglected and dismantled the Black community, the city's apology years later, and how black residents of Halifax keep the spirit of their community alive. The text incorporates historical photographs, documents, and first-person narratives, making it an ideal text for introducing historical and archival sources. Ages 12-16.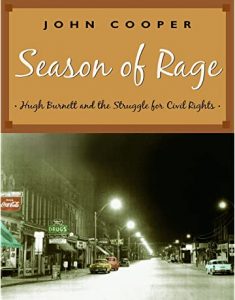 Season of Rage: Hugh Burnett and the Struggle for Civil Rights by John Cooper (2005)

This book documents civil right struggles for Black Canadians in 1950s Ontario, focusing on the town of Dresden. This account can help counter myths about Canada's position as a more enlightened and inclusive country and remind readers that the civil rights movement was not limited to the United States. Ages 10-16.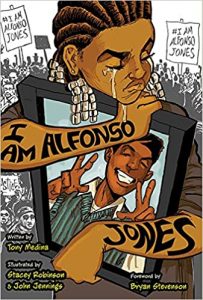 I am Alfonso Jones by Tony Medina (2017)
A graphic novel following the ghost of fifteen-year-old Alfonso Jones as he watches his friends fight for justice after Jones is killed by an off-duty police officer. A teachers' guide is available from Lee & Low Books. Ages 14-18.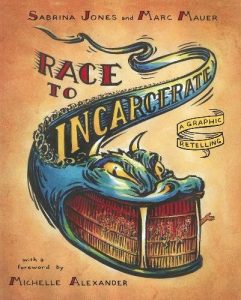 Race to Incarcerate: A Graphic Retelling by Sabrina Jones and Marc Mauer (2013)
Based on the book by Marc Mauer and the Sentencing Project, a group that advocates for criminal justice reform in the United States, this graphic adaptation makes the original text more accessible for teens and young adults, addressing how the US came to have the highest rate of incarceration in the world and a justice system that disproportionately targets Black Americans. Ages 15 & up.
---
Resources for Educators & Parents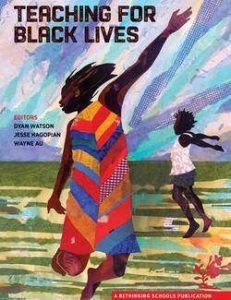 Teaching for Black Lives edited by Dyan Watson, Jesse Hagopian, Wayne Au (2018)
Published by Rethinking Schools, Teaching for Black Lives is an edited anthology tackling topics ranging from bringing Black Lives Matter into school curriculum, school dropout rates, restorative justice, and how to introduce young students to the concepts of race and racial difference.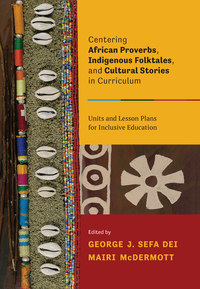 Centering African Proverbs, Indigenous Folktales, and Cultural Stories in Curriculum: Units and Lesson Plans for Inclusive Education edited by George J. Sefa Dei and Mairi McDermott (2019)

Edited by faculty from OISE and the Werklund School of Education at the University of Calgary, this book includes detailed description of educational units from a variety of educators, as well as a reflection on their unit design from an anti-racist standpoint.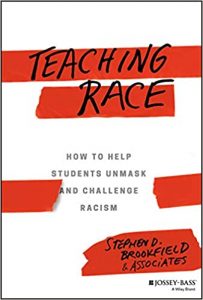 Teaching Race: How to Help Students Unmask and Challenge Racism by Stephen D. Brookfield and Associates (2019)

Primarily aimed at white teachers working at majority-white institutions, this book covers topics like how to teach the concept of whiteness, teach against colour blindness, and help students think about their own positionality. While aimed at university instructors, many of these techniques and conversations could easily be adapted for high school classrooms. Ebook / Print.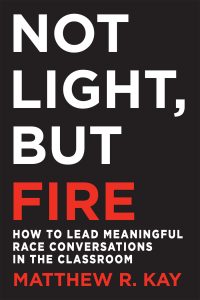 Not Light, but Fire: How to Lead Meaningful Race Conversations in the Classroom by Matthew R. Kay (2018)
A guide for teachers who want to initiate and facilitate meaningful, productive dialogues about race in the high school classroom. Tackles topics like creating safe spaces for difficult conversations and identifying the difference between substantial and inconsequential discussions about race.
Beyond Heroes and Holidays: A Practical Guide to K-12 Anti-Racist, Multicultural Education and Staff Development edited by Enid Lee, Deborah Menkart, Margo Okazawa-Rey (2008)
A classic text in multicultural education that is now in its second edition, Beyond Heroes and Holidays provides theory and guidelines for instructors, as well as activities and lesson ideas for all subject areas.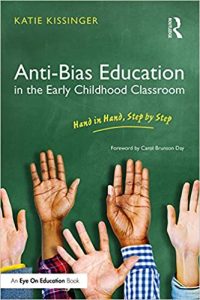 Anti-Bias Education in the Early Childhood Classroom: Hand in Hand, Step by Step by Katie Kissinger (2017)
This guide is broken up into sections introducing different aspects of social justice for early children education settings, including racial, disability, and economic justice, helping educators to situate conversations about race within broader anti-bias work. Available as an ebook.