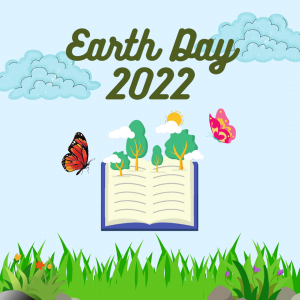 The Ontario Institute for Studies in Education (OISE) community is dedicated (in it's role as a leading faculty of education) to addressing the climate crisis and furthering sustainability and climate action in the education context. Over the past year, OISE has developed a Sustainability & Climate Action Plan and launched the Sustainability & Climate Action Network. As a member of the OISE community, the OISE Library is committed to advancing climate action through various activities including promoting access to resources that support climate action initiatives and highlight the influence of teaching, research, and advocacy to address the climate crisis.
In this post we highlight just a few of many e-books and articles that address the role higher education plays in promoting sustainability knowledge and initiatives that create climate solutions.
E-Books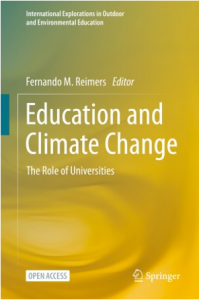 Education and Climate Change: The Role of Universities (2021 e-book) edited by Fernando M. Reimers, is an open access volume that examines the field of climate change education and highlights past efforts that have failed to sustain effective academic change on a large scale. The book also focuses on the participation of university students and faculty in fostering partnerships with schools and adult education institutions as a viable approach to contributing progressive curricula about climate change. Through several case studies, this approach of developing innovative curriculum is exemplified as the foundation and characteristics of the programs implemented in local contexts is presented and illustrated over the course of several chapters.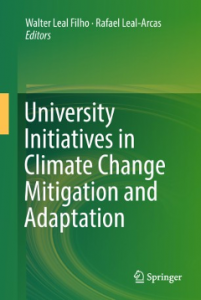 University Initiatives in Climate Change Mitigation and Adaptation (2019 e-book) edited by Walter Leal Filho and Rafael Leal-Arcas examines the role that higher education institutions play in addressing climate change mitigation and challenges to adaptation. This book offers lessons learned from climate change research, education, studies, and projects in the context of universities across the globe which in turn have promoted new ideas and experiences that have resulted in successful initiatives and best practices.
Articles
Turtle Island (North America) Indigenous Higher Education Institutions and Environmental Sustainability Education (2021 article) by Kelsey Leonard investigates Indigenous sustainability education program offerings throughout North America. This article offers a comparative analysis of programming across Indigenous Higher Education Institutions and presents findings that emphasize the significance of environmental and sustainability education program design as presented in Indigenous Higher Education Institutions. The findings also support the importance of Indigenous controlled institutions to centering Indigenous Knowledge in higher education which offers a distinctive approach to climate action.
Assessing climate solutions and taking climate leadership: how can universities prepare their students for challenging times? (2022 article) by P. Molthan-Hill and L. Blaj-Ward initiates discourse surrounding the importance of redesigning university learning to create space where students can address the challenges of climate activism in a way that is personal and meaningful to society. This article refers to the limited number of studies that are currently available to illustrate the importance of climate learning and leadership while drawing on the tools, approaches, and strategies made applicable to curricula to conduct meaningful learning and impact beyond the classroom.
The effect of information source on higher education students' sustainability knowledge (2021 article) by Jessica Ostrow Michael and Adam Zwickle presents a study of undergraduate students attending Michigan State University assessing their knowledge of environmental sustainability and where their learning source on the topic originated from. The findings suggest that the knowledge students garnered on the topic of sustainability and environmental education at the secondary and post-secondary level had a positive influence on their approach to sustainability knowledge. These findings were drawn in comparison to the limited knowledge students gained from their parents regarding the environment.
Further research support
For assistance finding additional titles related to the role of higher education in promoting climate action (or any other topic!), we welcome all students, faculty, and staff members to drop into the Zoom Reference Hours to speak with one of our librarians or graduate student assistants. Additional research support is also available through one-on-one research consultations. Information for all our research services is located on the Reference and Research Services page.