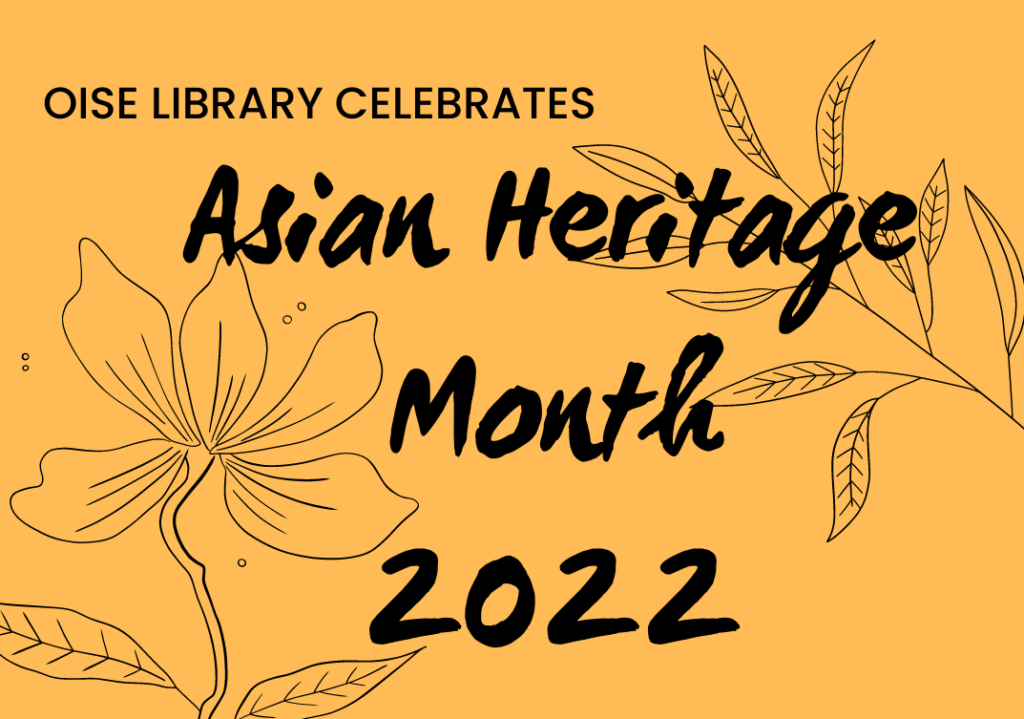 The Government of Canada officially declared May as Asian Heritage Month exactly 20 years ago in 2002. This was following the appointment of Senator Vivienne Poy in Canada who proposed a motion to acknowledge Asian Heritage in Canada, something the federal government failed to do. Since then, Asian Heritage Month continues to recognize the achievements, experiences, and contributions of those who make up the Asian diasporas in Canada.
Since the late 1700's, immigrants of distinct communities from the Asian continent have made a home in Canada. They brought and continue to bring rich cultural heritage representing a myriad of languages, cultures, and religious traditions. In every aspect of life, the diverse and growing community of Asian Canadians have contributed to their communities in numerous ways. Thus, Asian Heritage Month offers us an opportunity to be mindful of and acknowledge the valuable contributions, sacrifices, sufferings, injustices, and victories Asian Canadians have and continue to experience so that we may honour the integral role they have played.
Now more than ever, Asian Heritage Month also carries an opportunity to reflect on the last couple years in the COVID-19 pandemic as hate crimes against Asian Canadians have risen. According to Statistics Canada, it was reported in July 2020 that many minority communities have been subjected to an increase in harassment due to the intersection of their perceived racialization and the threat of pandemic. These racialized attacks have nearly tripled, especially amongst Chinese, Korean, and Southeast Asian individuals. This year's theme for Asian Heritage Month is "Continuing a Legacy of Greatness" which reminds us of the importance of coming together as a community to highlight Asian cultures, heritage, and identities and prevent anti-Asian racism and discrimination from taking form.
Canadians of Asian heritage have added a great deal to the social and cultural fabric of our country, and this month gives us the opportunity to explore the incredible diversity of Asian voices and perspectives. The OISE community will find a rich array of works in the library's collection that highlight Asian stories, authors, and research covering topics of immigration, identity, love, and family. OISE Library remains committed to strengthen our equity and inclusion efforts and encourages the OISE community to explore the prepared lists of items below:
Children's Books:

Written and illustrated by Jillian Tamaki They Say Blue (2018) follows a young girl as she contemplates colours in the known and the unknown, in the immediate world and the world beyond what she can see.
Written by Hana Chieri Uegaki and illustrated by Qin Leng Hana Hashimoto, Sixth Violin (2014) serves as a celebration of music and performing arts, multicultural studies and the importance of intergenerational relationships.
Written by Ibitihaj Muhammad The Proudest Blue (2019) is a vibrantly illustrated story that follows two sisters on one's first day of hijab.
Written by Loretta Seto Mooncakes (2013) is the lyrical story of a young girl who shares the special celebration of the Chinese Moon Festival with her parents.
Kao Kalia Yang's A Map into the World (2019) follows a young Hmong girl who settles into her new home, and as the seasons change, so does the world around her.
In A Different Pond (2017) graphic novelist Thi Bui and acclaimed poet Bao Phi deliver a powerful, honest glimpse into a relationship between father and son – and between cultures, old and new.
E-Books:

Drawing on archival and ethnographic research in Canada and the Philippines from 1880 to 2017, Bayanihan and Belonging, written by Alison Marshall, aims to understand the role of religion within present-day Filipino Canadian communities.
In the novel Seven (2020) Farzana Doctor breaks open the taboo subject of khatna (female genital mutilation/cutting) in the Dawoodi Bohra community. Doctor celebrates family and kinship while also making a space for dissent and activism and Seven illustrates a tension between positive and negative community rituals.
Written by Tania Das Gupta Twice Migrated, Twice Displaced (2021) explores the lives of Gulf South Asians who arrived in the Greater Toronto Area from India and Pakistan via Persian Gulf countries such as the United Arab Emirates and Saudi Arabia.
Lesser Known Monsters of the 21st Century (2022) written by Kim Fu offers a collection of short stories that blurs the boundaries of the real and fantastic, offering intricate and surprising insights into human nature.
Written by Susan Chuang Asian Families in Canada and United States: Implications for Mental Health and Well-Being (2021) focuses on immigrant families of East Asian, Southeast Asian, South Asian, and West Asian ancestry in North America.
Fiction:

Set in 1980's Sri Lanka Swimming in the Monsoon Sea (2005) by Shyam Selvadurai follows fourteen-year-old Amrith who is caught up in the life of the cheerful, well-to-do household in which he is being raised by his vibrant Auntie Bundle and kindly Uncle Lucky.
Catherine Hernandez' novel Scarborough (2017) offers a raw yet empathetic glimpse into a troubled community that locates its dignity in unexpected places: a neighbourhood that refuses to be undone.
Written by Vivek Shraya God Loves Hair (2010) is a collection of 21 short stories following a tender, intellectual, and curious child who navigates complex realms of sexuality, gender, racial politics, religion, and belonging.
The Subtweet (2020) written by Vivek Shraya, follows the trajectory of a friendship between two musicians from its formation to its catastrophic demise. Neela and Rukmini are two women living in present-day Toronto, trying to carve out niches for themselves in the crowded and competitive world of the arts.
Kai Cheng Thom's A Place Called No Homeland (2017) is a debut collection of poems that are written with tenderness as they tell stories of the marginalized, children of the diaspora, queer and transgender communities, and survivors of abuse.
Nidhi Chanani's Pashmina (2017) is a graphic novel about an Indian American high school girl who wants to know more about her family history.
Non-Fiction:

I Hope We Choose Love (2019) from Kim Cheng Thom is a collection of personal essays and prose poems that proposes heartfelt solutions on the topics of violence, complicity, family, vengeance, and forgiveness.
We Have Always Been Here (2019) is a compelling coming of age memoir that recounts the childhood of author Samra Habib as an Ahmadi Muslim in Pakistan and the threats she faced from Islamic extremists.
Chop Suey Nation (2018) documents author Ann Hui's journey across Canada to answer two questions: Why is there a Chinese restaurant in every small town? And who are the families who run them?
Featuring original essays by a collection of writers from around the world The Displaced: Refugee Writers on Refugee Lives (2018) is an indictment of closing our doors, and a powerful look at what it means to be forced to leave home and find a place of refuge.
Films:

Have You Eaten (2020) is a candid short that follows filmmaker Lina Li and her mother who engage in an intimate conversation about immigration to Canada, misunderstandings, barriers to communicating, love and the taste of home.
Highway to Heaven (2020) is short symphonic documentary that offers a glimpse into the unique religious co-existence found along No. 5 Road in Richmond, British Columbia.
Because We Are Girls (2019) follows a conservative Indo-Canadian family in small-town British Columbia who must come to terms with a devastating secret: three sisters were sexually abused by an older relative beginning in their childhood years.
Becoming Labrador (2018) follows a group of Filipino workers having recently landed in Happy Valley-Goose Bay, travelling halfway around the world for jobs they hope will offer their families new opportunities and a better life.