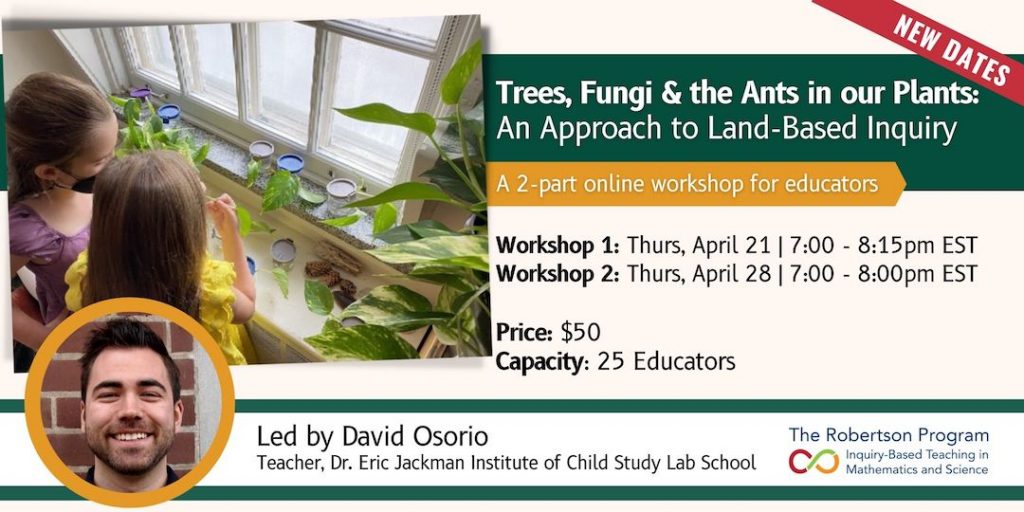 Trees, Fungi & the Ants in Our Plants: An Approach to Land-Based Inquiry
2-PART ONLINE WORKSHOP – April 21 & April 28, 2022

Grade 2 Teacher David Osorio shares how an inquiry beginning with trees took two different paths when he followed his students' interests. Hear how stories, outdoor investigation, and assessment can support students understanding of land.
REGISTRATION IS NOW CLOSED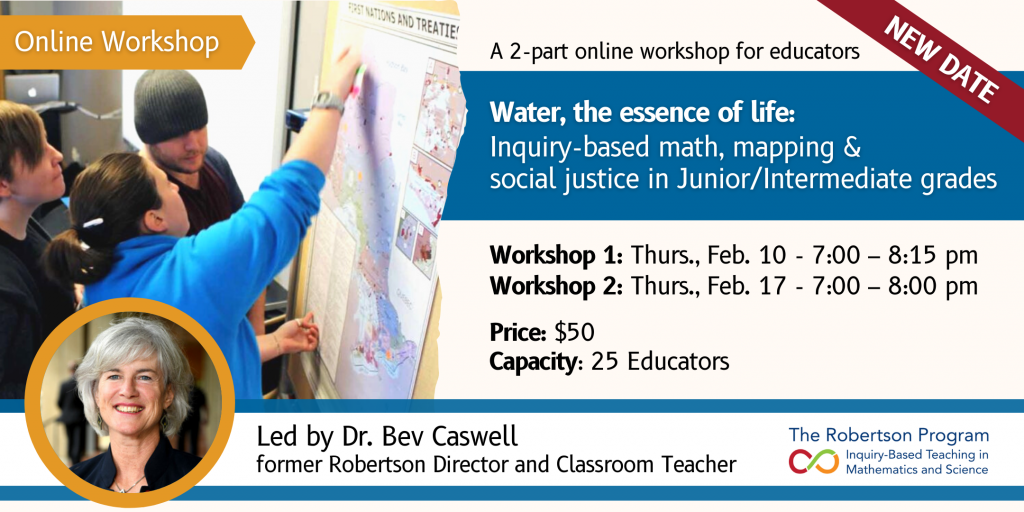 Water, the essence of life:
Inquiry-based math, mapping & social justice in Junior/Intermediate Grades
2-PART ONLINE WORKSHOP – February 10 & 17, 2022

Dr. Bev Caswell leads a two-part workshop that provides educators an opportunity to experience an authentic model of inquiry. Water, the essence of life, integrates math, mapping and language arts to raise awareness of an injustice facing many First Nation communities: unsafe drinking water.
REGISTRATION IS NOW CLOSED
Encountering Math, Science & Literacy in an Outdoor Classroom
Mine Centre Public School Educators Marge Hale, Sara Empey and Verna White share lessons they've created for their outdoor classroom, as well as what they've learned as land-based educators along the way!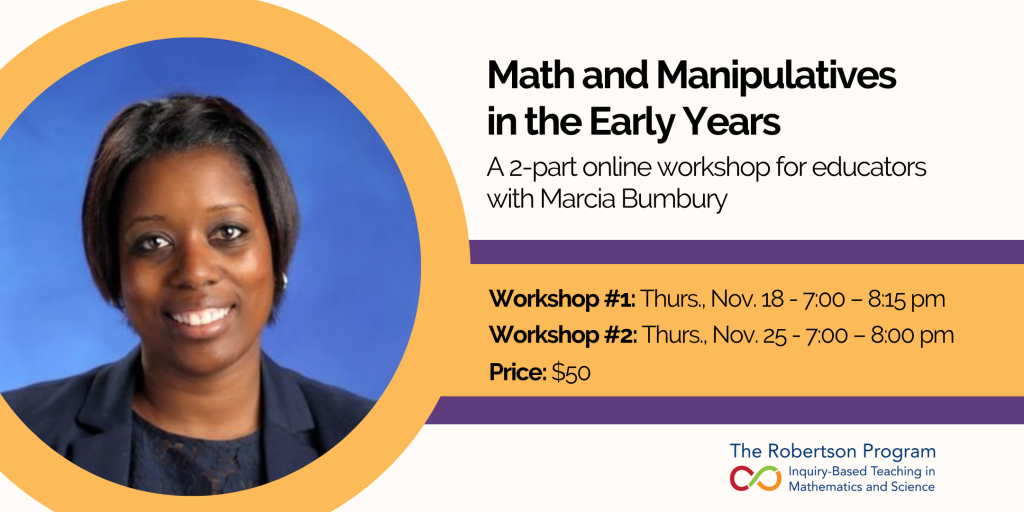 Math and Manipulatives in the Early Years
2-PART ONLINE WORKSHOP – November 18 & 25, 2021

Educator Marcia Bumbury will be discussing how she makes the most of the math manipulatives she uses with her early years students. More details to come.
REGISTRATION IS NOW CLOSED
Manidoomin (Manoomin): Wild Rice the Spirit Food
Highlighting the Ojibwe language and culture behind this annual tradition, educator Jason Jones discusses the complex math and science behind harvesting wild rice.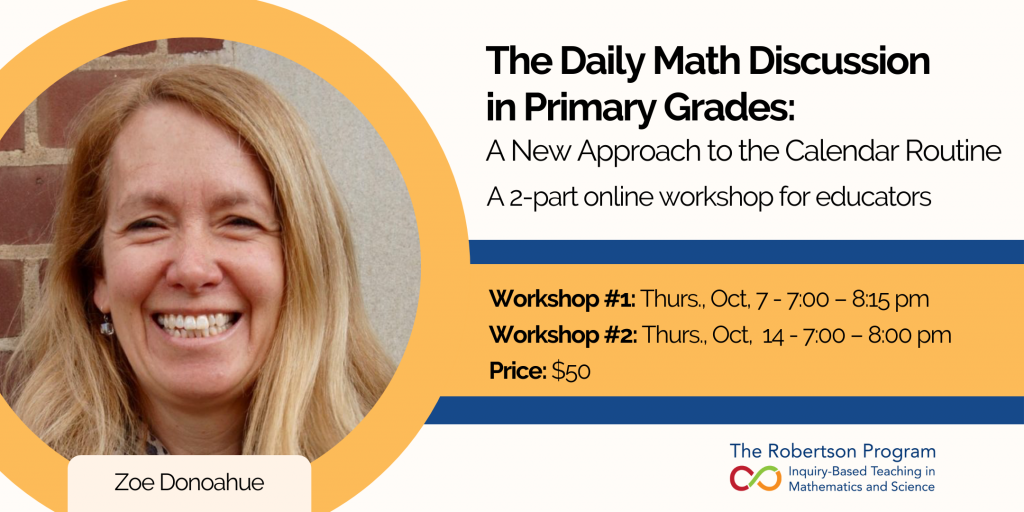 The Daily Math Discussion in Primary Grades: A New Approach to the Calendar Routine
2-PART ONLINE WORKSHOP – October 7 & 14, 2021

Using video clips, photographs, and transcripts of student discourse, educator Zoe Donoahue demonstrates what a rich daily math discussion looks like and how it can incorporate many concepts from the primary math curriculum. 
REGISTRATION IS NOW CLOSED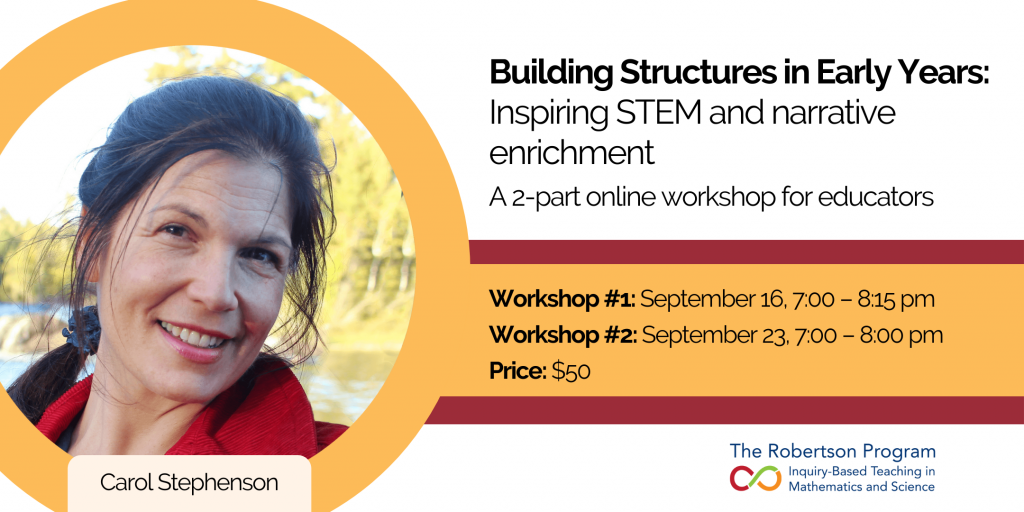 Building Structures in the Early Years: Inspiring STEM and narrative enrichment
2-PART ONLINE WORKSHOP – September 16 & 23, 2021

Educator Carol Stephenson shares ways to support the rich narrative play that naturally arises during early years' building. Discover how you can maximize your classroom space, budget, and schedule to bring out the best in all your builders!
REGISTRATION IS NOW CLOSED
Bringing Indigenous Education into Science Education through Reciprocity
Educators Amber Sandy and Erin Sperling exemplify how Indigenous Ways of knowing can be integrated in the study of the scientific methods through storytelling.

Gaa-gikinoo'amaqigooyang: When they teach us
Educator Jason Jones shares some of the teachings that have been passed down to him from his Grandmother, Nancy Jones, about the science that can be learned from animals.

Ondaadan Gikino'amaadiwin Aki: Learning from Land
Indigenous land-based experiences provide rich educational opportunity for Indigenous and non-Indigenous students. Educators Marlo Beaucage and Nancy O'Donnell connect curriculum to the mathematics and science learned in these experiences.

Traditional Indigenous Mathematics in the Ontario Classroom
In our first-ever webinar, Educator Bryan Bellefeuille shares how he brings Traditional Indigenous Mathematics in to his Ontario Classroom. Bryan speaks of his journey to help educators on their path to exploring and including Traditional Knowledge in their classroom. He addresses the difficulties that arise when trying to articulate Traditional Mathematics in a Western context and how those difficulties are further heightened when attempting to connect the activities to Ontario curriculum expectations.
Indigenous Language Revitalization Discussion Panel
PANEL DISCUSSION VIDEO
The 2018 Gaa-izhi-izhitwaawaad anishinaabeg: Culturally Responsive Teaching and Learning Conference hosted a panel discussion on Indigenous language revitalization. Themes include strategies to encourage language learning, overcoming language barriers, and current legislation on the topic. Panelists: Carissa Copenace (Niigaanigaabawiik), Jason Jones (Memashkawigaabaw), Shannon King (Waanode omiin midwaak), Marjolaine LaPointe (Waabindaandebawewin), Sherry Mattson (Bimaazhid-Giniw-Kwe), Brigitte Neganigwane (Waabshkaa-mkoonhs), Liz Osawamick (Giniw Miigwan)
Anishinaabe Language Panel: Indigenous Knowledge and Math Education Conference
PANEL DISCUSSION VIDEO
In October 2017, The Indigenous Knowledge and Math Education Conference took place in Treaty #3 Territory/Fort Frances, Ontario. Four public school educators provided insight on language education in our Anishinaabe Language Panel. Watch as Sherry Mattson (KPRDSB), Liz Osawamick (KPRDSB), Marjolaine LaPointe (KPDRSB) and Jason Jones (RRDSB) share their knowledge about educating students in Ojibwe.