By Jisoo Seo and Zachary Pedersen
The Robertson Program has been exploring ways in which coding can be integrated into the math curriculum as it is an important focus that many provinces have mandated as an essential component to future curriculum development. So, we are thrilled to be included in the cover story about coding in the latest edition of Education Today, the Ontario Public School Boards' Association's magazine! Author Jennifer Lewington spoke to our very own Dr. Joan Moss, Dr. Bev Caswell and Ben Peebles (Gr. 6 Teacher at the Dr. Eric Jackman Institute of Child Study) to offer insight on how coding can be a meaningful opportunity for every students' mathematics learning.
Last March, The Robertson Program held a three-day Coding in the Curriculum workshop led by Dr. Brent Davis and Dr. Krista Francis (both from the Werklund School of Education, University of Calgary). This was an opportunity for educators, researchers and Ministry of Education administrators to explore coding as "something for" the curriculum, rather than "something more." It was also an opportunity for students to explore various mathematical concepts in geometry and algebra through coding using robots.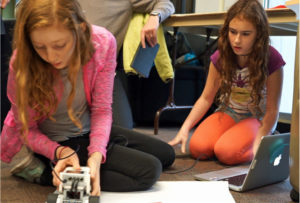 In the article, Jennifer also spoke to Antonio Santos (STEM Coordinating Principal, Toronto District School Board) – who was present at our coding think tank. He shares a similar view on coding, telling Jennifer that he believes coding shouldn't be viewed by teachers as "a stand alone or something extra. This is something we want teachers to embed into the regular curriculum, in what they are already doing."
Dr. Joan Moss shares insights on codin

g

Watch this video as Dr. Joan Moss explains why coding has the possibility to be an invaluable tool for learning.

In this clip, Joan talks about how math and coding can be learned simultaneously as she discusses a "coding unplugged" (coding without a computer) lesson in the Kindergarten class at the Dr. Eric Jackman Institute of Child Study Lab School.
In this next clip, Joan discusses a lesson from the Grade 5/6 class at the Dr. Eric Jackman Institute of Child Study Lab School in which students were given the opportunity to create their own "if-then" rules.
Dawn Britton, the Associate Director of Engineering Outreach at the University of Toronto, also attended our Coding workshop. Upon seeing the lesson with the Grade 5/6 students, she had the following to say:
"Coding allows students to create their own story and make it relevant. While they are learning the skills in math, which they might learn anyhow because of the curriculum, this approach allows them to create meaning for themselves – certainly faster than they would with just pen to paper."
*Thank you to the Ontario Public School Boards' Association for the cover image of Education Today